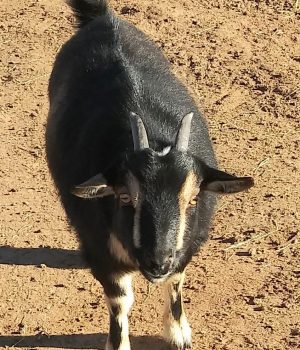 Briseis was due April 17, she surprised us with two healthy kids a day early on April 16, a buckling and a doeling. Meet Cesare and Chione. Cesare is polled and has blue eyes, and Chione is a beautiful little black doeling with a frosted nose, frosted ears, and a single white spot. They have a great pedigree with bloodlines through both Desertnanny, Castle Rock, Flat Rock, and Cottonwood Croft. Please see their full pedigree on our Herd Page.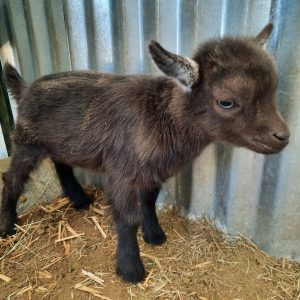 Ceseare is a gorgeous little blue eyed, polled buckling. This boy is SO laid back, his favorite thing to do is crawl in our lap, push any other kids out of the way, and just "Chill" in our lap. His sire is our boy HJ Summit B Finan, AGS Registered, he will be ADGA registered as soon as ADGA fixes their system! Ceseare (pronounced Chez-Are-Ray) has stolen our hearts, and with his excellent pedigree through Castle Rock, Flat Rock, and Desertnanny, we are retaining him. Please see his pedigree details on our "Meet our Herd" page.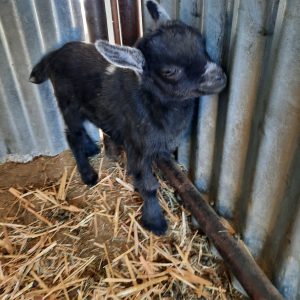 Chione (Pronounced Ki-Own-Nee) is our beautiful little black doeling with frosted ears, a frosted nose, and a single white spot on her left side. She is now called "Jet" and went to her forever home on June 27th, along with our girl Callisto (see WesCo Boudicca) and check out her great pedigree on our  "Meet the Herd" page.